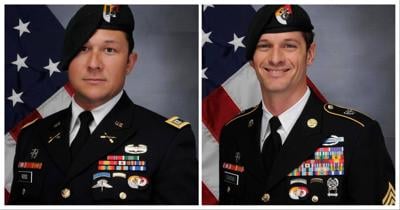 Capt. Andrew Patrick Ross, left, and  Sgt. 1st Class Eric Michael Emond
PFT Monday will be our first Hero workout in honor of lost servicemen in our community.
Workout will be the normal interval laps following a brief warmup.  In between fast laps we will do merkins and Mary in number constent with our hero's ages.
Workout will be dedicated to all service men and women and their families.
Start the week with respect and honor in the gloom.
Aye.